Global Leadership Summit 2018
Global Leadership Summit 2018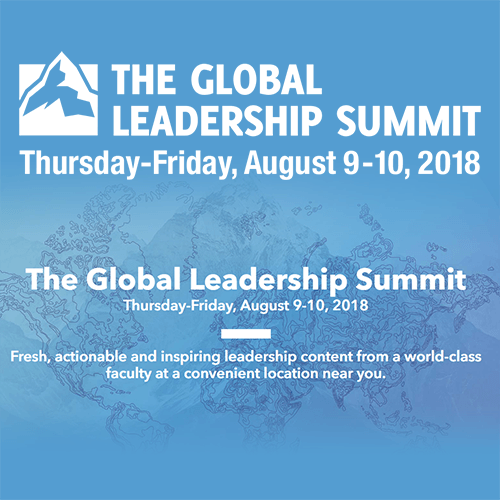 This 2-day Global Leadership Summit will hone and improve your leadership skills with fresh perspectives from world-class leaders! Happens nationwide on Thursday and Friday, August 9-10, 2018.
ABOUT THE GLOBAL LEADERSHIP SUMMIT:
Everyone has influence.
Your influence matters. Join 445,000 of your peers to learn how to maximize it with two days of world-class leadership training.
Craig Groeshel of Life.Church, Angela Ahrendts of Apple, Simon Sinek, TD Jakes, Erwin McManus, Danny Meyer of Shake Shack, Carla Harris of Morgan Stanley and many others will speak!
Gain exclusive access to the LIVE HD broadcast of the Summit at one of 600+ locations
Get a unique blend of vision, inspiration and practical skills you can immediately apply
Learn from the diverse 2018 faculty
Leverage the Summit as a resource to transform yourself and your community
Join a community of like-minded Christians from 135+ countries and 60 languages who attend the Summit around the world
LOCATIONS:
Big Pine Key, FL: Vineyard Community Church
Boise, ID: Foothills Christian Church
Henderson, NV: Lake Mead Christian Ministries
Islamorada, FL: Island Community Church
Las Vegas, NV: Canyon Ridge Christian Church
Missoula, MT: City Life Community Center at University of Montana
Palmdale, CA: The Highlands Christian Fellowship
Phoenix, AZ: Central Christian Church (Mesa, Gilbert, Glendale & Ahwatukee campuses)
Prescott, AZ: Prescott Christian Church
Rancho Cucamonga, CA: Community Baptist
Salt Lake City, UT: The Point Church
Click here for the FULL LIST of locations around the country to search for your city!