If there is ever a support group for my barbecuing addiction, then I'll be the first to sign up. Oh wait! There already is - the Nevada Barbecue Association! And, I'm already a member. Having only just put the fire out a mere 18 hours ago, I felt an urge to fire up the grill and barbecue some Berkshire pork spare ribs. Here's how it all went down.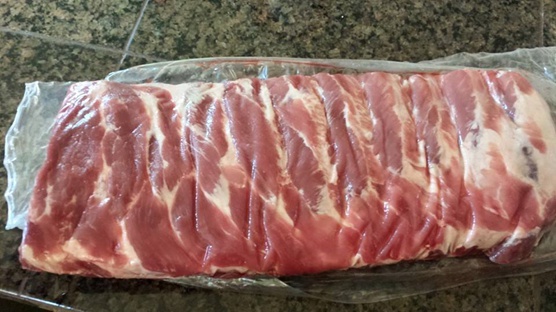 Say hello to my little Berkshire friend. He's a little guy, weighing in at a mere 1.5 pounds. He's fashioned in the St. Louis cut. Most commercial ribs cut in this fashion generally range from 2.5-3.5 pounds.
These ribs were trimmed beautifully straight from the processor, which is to say that the membrane on the back had been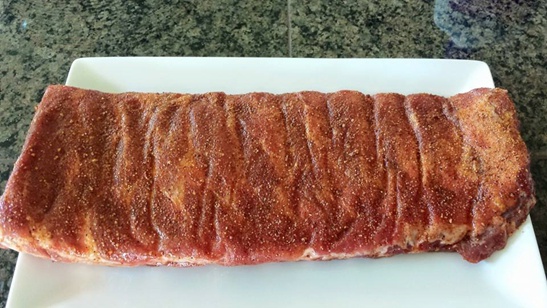 removed. So, the next thing to do was season it! I used a layer of "Peppeureka" and a layer of "Oakridge BBQ- Dominator Sweet Rub".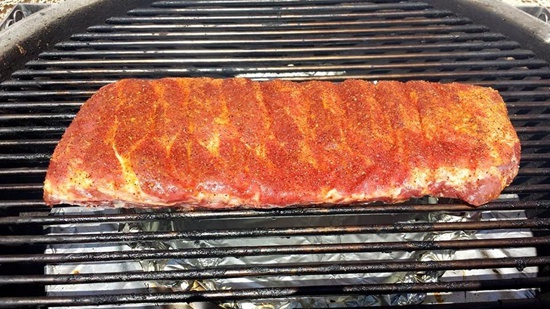 The grill, all setup for indirect heat, was ready for the main event. Place the ribs on the grill rack, close the lid, and let it cook. NO PEEKING! If you're looking, you're not cooking ;)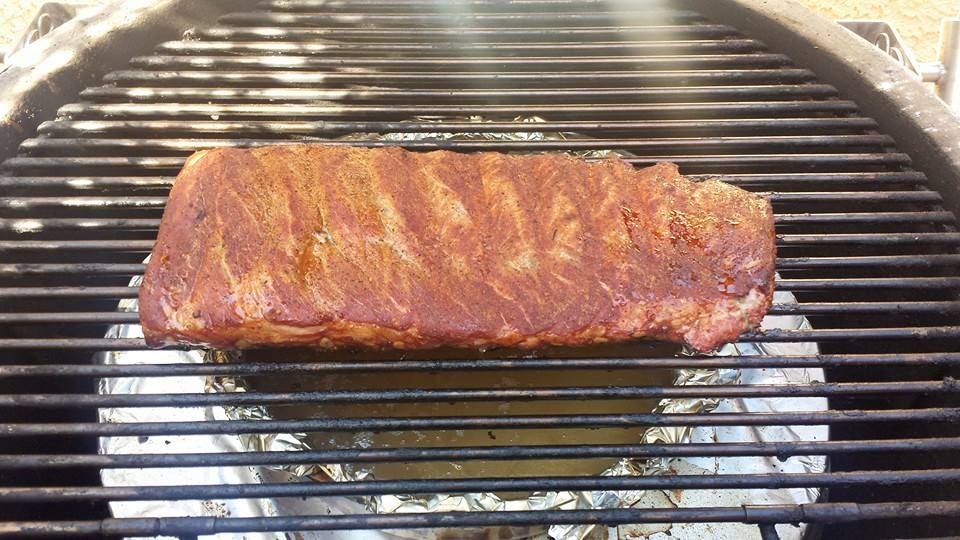 2 hours in, and they're ready for wrapping.
A mixture of butter, brown sugar and honey was added. To be honest, I didn't measure it, but I would guess that it was 1/3 cup unsalted butter, 1/3 cup brown sugar, and a couple tablespoons of honey. Then, I mixed it all together in a sauce pan and heated it until it was liquid and well combined.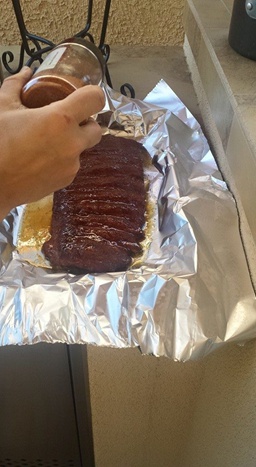 One more dash of "Peppeureka" and they're ready to be bundled up before returning to the warm comforts of the grill.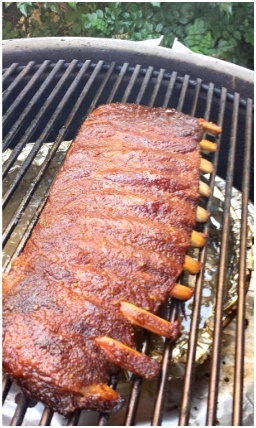 1 hour and
40 minutes later
they were unwrapped, removed from the caramel bath and placed back on the grill. (left)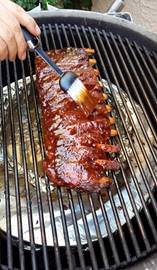 Time to baste these beauties with your favorite bbq sauce! Who doesn't like to be glazed in something tasty every once in a while? I mean, really? (right)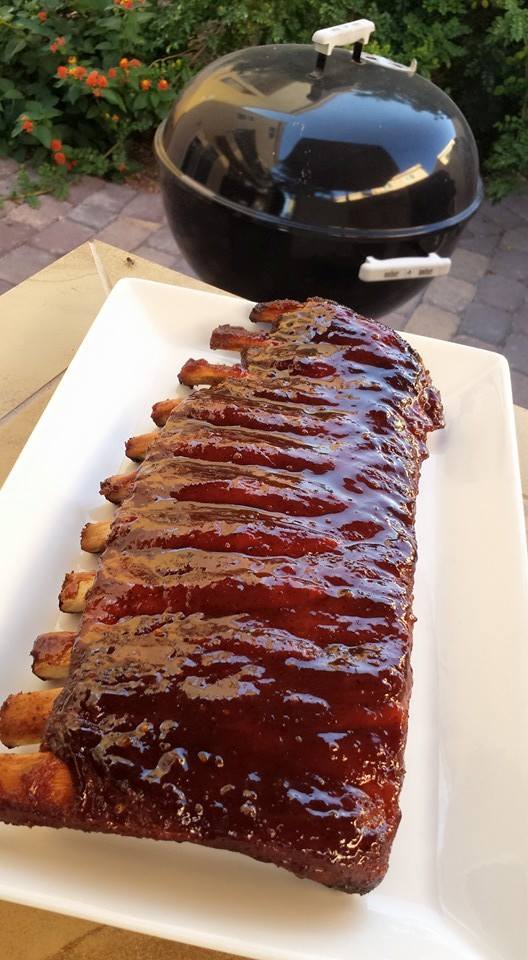 Man, these were gooooood! The combination of Dominator Sweet Rub, Peppeureka and bbq glaze really made these ribs succulent. Barbecuing your food doesn't have to be hard. As you can see, these were prepared in just a few easy steps.
"Artisan" BBQ Ribs
Ask your butcher for a "St. Louis cut" rack of ribs with the membrane removed. This will help you save time and frustration.
1. Liberally dust the front and backside of the ribs with Oakridge BBQ Dominator bbq rub and Peppeureka seasoning. These are some of the seasonings I like to use. You may substitute your own favorites.
2. Place the ribs on a 275 degree charcoal grill set up for indirect heating. Add a chunk or two of hickory or apple wood (I like to use Mojobricks®) to the fire and close the lid.
3. After two hours, place the rack of ribs onto a large piece of foil Pour a mixture of melted butter, brown sugar and honey over the ribs (optional). Sprinkle the ribs with a little more seasoning and wrap it up tightly, being careful not to pierce the foil.
4. Place the wrapped ribs onto the grill, close the lid and let them cook an additional 1.5 hours or so before checking for doneness. When you open the foil the meat should have pulled back from the bones a little and tear slightly in the center when lifted up with tongs.
5. Remove the ribs from the foil (you can leave them in the foil for this step if you wish) and place them onto the grill grate. Baste the ribs with your favorite bbq sauce or glaze and cook an additional 10 minutes or until the sauce reaches the desired amount of stickiness. Place the finished ribs onto a platter and allow to rest 5-10 minutes before slicing. Enjoy! Be sure to have plenty of wet wipes on hand :)