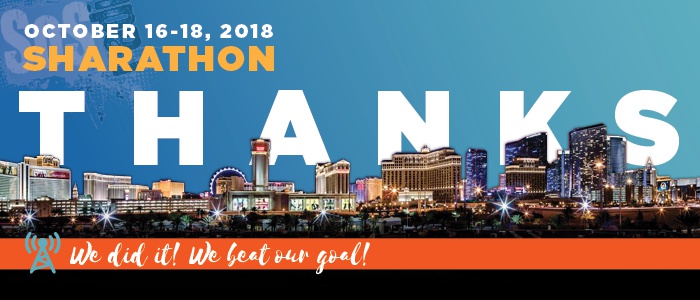 Albert Einstein once said, "there are only two ways to live your life: as though nothing is a miracle, or as though everything is a miracle."
SOS Radio's Sharathon 2018 broke records and saw God perform miracle after miracle! Going into Day 3 of Sharathon on Thursday we were at 79.19% of the goal. Covering over 20% in one day is a daunting task to say the least. It isn't something we could have done on our own, but God has always provided!
When we kicked off day 3 of Sharathon, we saw a 10% jump in our goal. By 9am, we were already approaching 90%. The 8am hour alone saw over $36,000 in gifts because of a generous gift from a local business in Las Vegas. They matched your gifts that hour!
The final hour of Sharathon was one of the most exciting hours in the history of the SOS Radio ministry. Your gifts pushed a full percentage point every 20 minutes. EVERY line in the phone zone was jammed. Our phone volunteers might have been physically exhausted, but they were spiritually on fire!
What we witnessed during Sharathon 2018 was a true miracle and we cannot thank you enough for your generosity! The music on SOS touches hundreds of thousands of hearts every week! Because of YOUR support, SOS Radio continues to grow and encourage our community! God is opening up new doors every year with our city and country to reach even more hurting people.
Thank you for your prayers, your support, your stories and your love!
-Brad, Chris, Scott, Dan, Robert, Lauren, Terese, Ceci, Mike C, Amanda, Theresa, Rob, Dan G, Chris G, Tim, Dawn, Paul, Mike M, Marney & Bob.