You are invited to a 2-Night, FREE, Christian Concert Event! Check out the details below!

For FREE tickets, Text: VEGASFAMILY to 55498
SATURDAY, JUNE 12
Crowder, Evan Craft & Scott Dawson
Craig Ranch Amphitheater 7-10pm
628 W. Craig Road, North Las Vegas, NV 89031
(Those who attend are welcome to bring coolers, blankets, food & short lawn chairs.)
Claim your FREE Tickets: Here!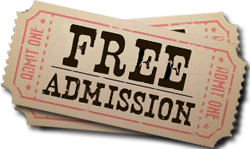 Volunteers are needed for this event. Interested? Sign up: Click Here!
From six-foot distances to preferred pronouns, many of us have become so disconnected with others that we have lost hope for positive interactions and deep relationships. In the midst of everything new, wouldn't it be nice to enjoy a few things that haven't changed? At Scott Dawson Evangelistic Association, we believe in serving the Church. When the Lord put Las Vegas on our hearts, we immediately began thinking of ways to engage the city. As a part of Pathfinders, the students coming to share the Gospel with Las Vegas residents have ensured that this two-night event is completely free.
A person can live days without food, minutes without oxygen, but not one second without hope! Part of the Pathfinders mission is bringing hope to a world without it. This is evangelistic outreach in a time of desperation. Our sta has been working hard and patiently over the past two years to make sure that this event can happen in person. All we are asking you and your church to do is show up!
Want to do more? The biggest two areas that we need help are in prayer and promotion. Spread the word about this event! Pray for those who are planning to come and have not yet heard God's Word. We want as many people in Las Vegas to hear the Gospel as possible because we believe that God is going to do big things, and many people are going to go from death to life. Our Pathfinders will only be here for a week, but your church will be here long after. These new believers will need a church home, and fellowship with followers in their area. By showing up on June 10-13 you could play a pivotal role in the life of a new believer. So mark your calendars, and come see what God will do!
FRIDAY, JUNE 11
Scott Dawson, plus Lecrae & Crowder
Pinecrest Academy @ Cadence 7-10pm
225 Grand Cadence Drive, Henderson, NV 89015

SCOTT DAWSON
CROWDER
LECRAE
EVAN CRAFT
SOCIAL CLUB MISFITS