SOS Radio Summer Passport
SOS Radio Summer Passport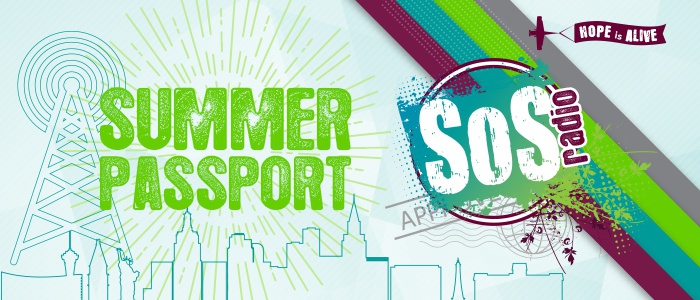 Keep Hope Alive This Summer with the SOS Summer Passport!
It's safe to say that 2020 has not gone as planned... We've all had to face challenges that have tested our patience as well as our faith. Though businesses are starting to reopen, many of us will continue to take necessary precautions as we're out and about. And even though your summer plans may have changed, one thing remains the same: together we can help keep hope alive in our community!
Introducing the SOS Summer Passport! It's a downloadable family passport that provides an easy and safe way to get out of the house and tangibly help those in need. The SOS Summer Passport includes a group of ministries and nonprofits who have been on the front-lines of serving in the community. Each weekend this summer, you're invited to donate much-needed items to help refill the tank for these organizations. Simply STOP by, POP your trunk, and DROP off your donation! You won't even have to get out of your car!
While you're rolling through, we'll give you a stamp on your SOS Summer Passport and other SOS goodies if you'd like them. Once your SOS Summer Passport is filled, you'll be eligible to enter to win a special grand prize on our website! Thank you for helping to Keep Hope Alive this summer!
PASSPORT STOPS:
---
5.) Club Christ
ABOUT: Club Christ provides tutoring and mentoring programs for inner city youth of all ages. Club Christ students typically see up to two times more growth in their reading scores than their peers thanks to the innovative assessment and personal learning plans. Each child also develops a robust Biblical worldview with the help of our fun and engaging Bible lessons.

WHEN: Sat., July 18, 8:30a - 11:30a
NEED: Hygiene products (Deodorant, Soap, etc.) Hand Sanitizer, Face Masks, Individually Packaged Snacks for Kids, Youth-Sized Socks

LOCATION: (Business Office) 3243 E. Warm Springs Rd. Suite 118, Las Vegas NV 89120
---
6.) TBD
ABOUT:
WHEN: Sat., July 25, 8:30a - 11:30a
NEED:

LOCATION:
---
7.) Project 150
ABOUT: Project 150's mission is to provide support and services to homeless, displaced, and disadvantaged high school students so they can remain in school, graduate, and build bright futures. There are on average about 7,500 students that fit into this category of need who reside in Clark County, Nevada.

WHEN: Sat., August 1, 8:30a - 11:30a
NEED: Heavy-Duty Backpacks, Deodorant, Under-clothing for Men & Women

LOCATION: 3600 N. Rancho Drive, Las Vegas, NV 89130
---
** COMPLETED STOPS ** - (You Can Continue To Donate Items All Summer!)
4.) Serving Our Kids Foundation
ABOUT: Serving Our Kids Foundation feeds hungry and at-risk children within Clark County. Each weekend, Serving Our Kids Foundation feeds 3,500 kids in 70 schools who would otherwise go hungry because their primary source of food comes from school-served meals. With uncertainty of the upcoming school year and how much time may be spent outside of the classroom, the need for food is at an all-time high. Approximately 128,000 children in the Clark County School District meet the federal income-eligible definition of food insecure.

WHEN: Sat., July 11, 8:30a - 11:30a
NEED: (Items to fill Crisis Packs) Instant Oatmeal Packs, Granola Bars, Cup Noodles, Apple Sauce Cups, Cheese & Crackers Packs, Ravioli Cans.

LOCATION: 121 Industrial Park Rd. Suite 110, Henderson, NV 89015
---
3.) Goodness Gracious Ministries (Lovewell Center)

ABOUT: The Lovewell Center, a branch of Goodness Gracious Ministries, is a community-supported outreach to the homeless and people in poverty. The Lovewell Center meets physical needs through free services such as: an apparel store, a food pantry, a laundromat, as well as showers and haircuts.

WHEN: Sat., July 4, 8:30a - 11:30a
NEED:
Clothing: New Socks and Under-clothing for Men & Women
Food: No-Refrigeration-Required Microwaveable Meals & Easy-Open Cans of Stew, Chili, Soups, Pasta, etc.
LOCATION: 6135 Harrison Dr. Suite 1, Las Vegas, NV 89120 (Just one mile north of Sunset Park)
---
2.) Women's Resource Medical Centers of Southern Nevada
WHEN: Sat., June 27, 8:30a - 11:30a
NEED:
(Preferably New) Baby Outfits, Pajamas, Blankets for 0-6 months
New or Gently Used Women's Clothing, Shoes, Hand Bags
1701 W. Charleston Blvd, Suite 130 | Las Vegas, Nevada 89102
---
1.) The Salvation Army
WHEN: Sat., June 20, 8:30a - 11:30a
NEED: Bottled Water

35 W Owens Ave, North Las Vegas, NV 89030
> > SEE A MAP of the Entrance - CLICK HERE

Alternate Salvation Army Drop Locations During The Week:
The Salvation Army Southern Nevada
2900 Palomino Ln, Las Vegas, NV 89107
The Salvation Army Henderson United Corps
830 E Lake Mead Pkwy, Henderson, NV 89015
Important Notes: We understand that you may not be able to attend each stop on the planned day and time, and that's ok! You can drop off items to each location anytime this summer! Simply download the "SOS Stamp" file and attach it to your passport page.
If you're outside of the Vegas area, please download the Blank Passport Pages and fill in the information about which organizations you've chosen to help in your area. Then download the "SOS Stamp" file and attach it to your passport page.
DOWNLOADS & INSTRUCTIONS:
Simply Download and Print the pages below, then fold them in half to create a passport booklet. (Watch a quick tutorial video, click here!)
New pages will be added weekly to indicate the next SOS Passport Stop.
Cover Page (Front and Back)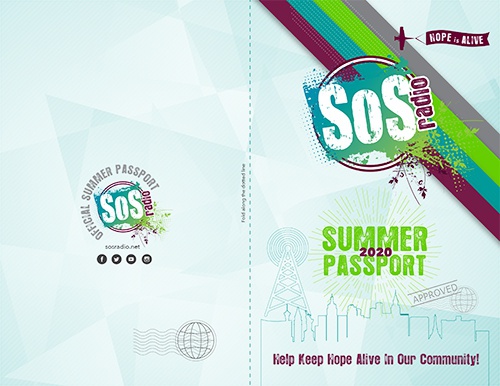 Page 1 - The Salvation Army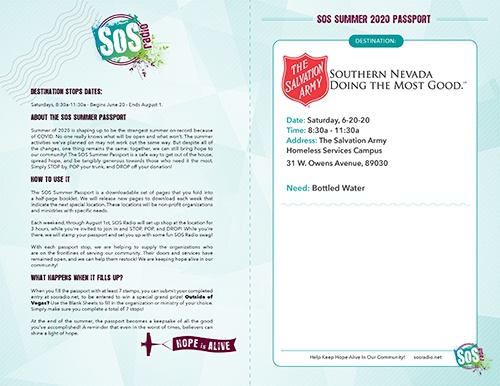 Page 2 - Women's Resource Medical & Goodness Gracious Ministries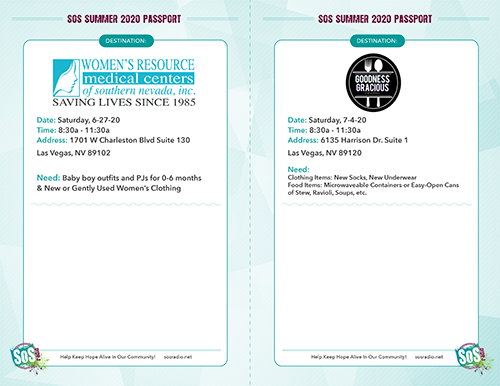 Page 3 - Serving Our Kids Foundation & Club Christ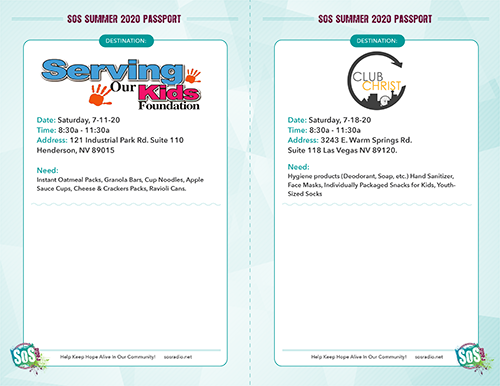 Blank Pages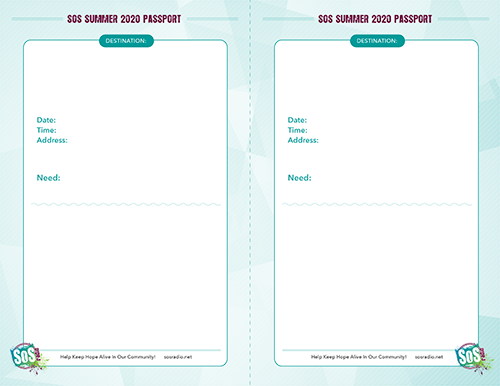 SOS Stamp