Sharathon FAQ
What is Sharathon?
So glad you asked! Sharathon is the fall pledge drive that fuels ALL the ministry and music on SOS Radio. This radio station is completely listener supported. Every dollar in the budget is personally given by listeners like you! Sharathon is Thursday 10/28!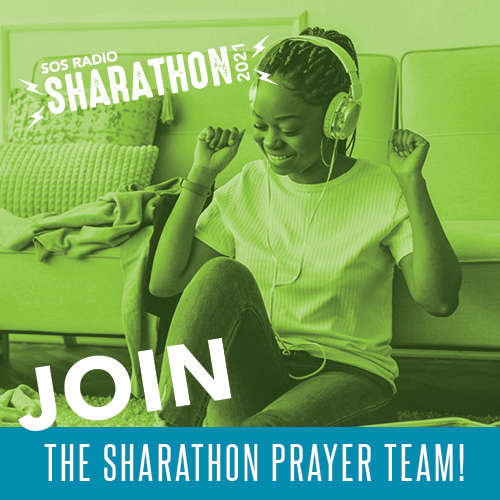 How does Sharathon keep SOS Radio Commercial-Free?
Most radio stations play 12-15 minutes worth of commercials every hour to generate revenue. SOS is not a business, we are a non profit ministry set up to serve our cities! You'll never hear a single commercial on SOS Radio because we're financially supported by our listeners. Families just like yours, choose make a financial gift during Sharathon to make sure that SOS is playing only encouraging content, 24/7. 100% of our financial budget is provided by the SOS Radio listening family.
So what does my monthly support impact?
In short: the operating expenses of running a Christian Radio Ministry. Your gift ensures that all the music and messages continue to play on the air and through your speakers.
But even more than that, your support changes lives through real encounters with God's love. It brings hope and encouragement to all who plug into SOS Radio. It impacts our friends and neighbors locally, regionally, and around the globe.
What's an Easy EFT?
The Easy EFT is simply a monthly "auto-pay" for your gift, using a direct deduction from your checking account. This option ensures that the maximum amount of our gift reaches the ministry. You see, credit card companies charge a fee of 3% of every transaction. But EZ EFT is only 19 cents per transaction. You can see how much that would save! Learn more, click here.
Are my donations Tax Deductible?
Yes! SOS Radio is actually a non profit organization called Faith Communications.
I have other questions – can I call and ask?
Yes, absolutely! 800.804.5452
We hope you'll listen in Thursday 10/28 and celebrate with us! We'll share so many stories about how God is tangibly working in our cities!