Praying For Sharathon 2020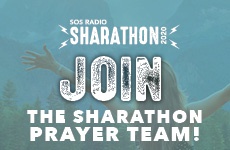 Sharathon is coming up soon! It happens on Wednesday, October 14th and Thursday, October 15th.
This fundraising event is an open door for you and any others to join in with us on what God is doing through the ministry of SOS Radio!
Would you pray with us about all that goes into a Sharathon event like this?
Prayer is vital to EVERYTHING we do on SOS Radio! We're stronger together. Would you join us in praying for a powerful Sharathon!
Pray that God would reach the hearts of those who are searching
Pray over the technical equipment behind the radio (Phones, computers, apps and satellite systems)
Pray over the SOS air team and their families
Pray for health in our community
Pray that God uses Sharathon for HIS glory
Pray for growth. Pray for momentum. Pray for provision.
Pray for new opportunities to reach our city in a deeper way this fall!
We know you're busy, so we've created a printable prayer card that makes it easy to remember to pray. Simply print it out and post it on your fridge!
You can also save these prayer reminders as pictures to your phone and share them on your social media or any other place you like!
Color Version - Click Here!
Black & White - Click Here!
Let's ask God to bless Sharathon 2020! Let us know you are praying! Email us at prayerteam@sosradio.net
Want to make your gift today? Click Here!